This is an update on what has been happening at the Club in the 3 months we have been "off-air". Access to the "back" of the site to post updates and club news was not available from around 24 January to 21 April 2022.
When we went "off-air" we had just completed a famous victory over Caerleon PC in the annual Winter Friendly. A report of this was posted just before we started to have problems.
Monkstone PC v Royal Wootton Bassett PC
The competition emerged from an approach by Royal Wootton Bassett (RWB) to the WPA to enquire if a Welsh petanque club would be interested in a two-leg friendly. We jumped at the chance of some competitive action at the end of a drab winter. It was agreed that each club should field 12 players and the format would be two rounds of triples, followed by two rounds of doubles, that's 20 games per leg or 40 in total, all of which would be timed. Our team comprised:
Roger Griffin, Gill Greenwell, Bernard Adshead, Vickie Adshead, Mike Wigg Keith Nott, John Barnes, Tony Smith, Ash Seath, Steve Hawkey, Mike Jones Keith Thomas
First Leg: This took place on 9 March at the RWB club, which is situated in a sports complex on the outskirts of the town. RWB share the facility with a number of other sports clubs and the clubhouse is a very impressive building, complete with bar. After a very warm welcome from Alan McInnes and his team, and suitably fortified by a tray of sausage rolls, we started the first round of triples.
Obviously their pistes were new to us, but we settled down well and emerged with two out of four wins, which at the time seemed a fair result. Round 2 of the triples went the same way, with two wins each. But the points difference of 83-54 in our favour suggested we should have done better.
Triples Scores: RWB 4 – 4 MPC
We then broke for lunch, which was generously provided by our hosts. In the afternoon the first round of doubles got underway and we seemed to lose our way. Had we over-indulged on the sandwiches? RWB were certainly the better team and took the round 4-2, with the match now in their favour 8-6.
We could not afford to lose the final round of doubles and take a big deficit back to Cardiff. There were some tight games, but we held our own and drew the round 3-3, but RWB were still the winners on the day.
Doubles Scores: RWB 7 – 5 MPC
First Match Final Scores: RWB 11 – 9 MPC
Not much in it really, but everything now depended upon us upping our game in our home tie.
Second Leg: The return leg took place at MPC on 31 March. Prior commitments meant that Gill Greenwell, Bernard and Vickie needed to be replaced by Gill Clark, Roger Green and Phil Roberts, but not a bad trio to have on the bench.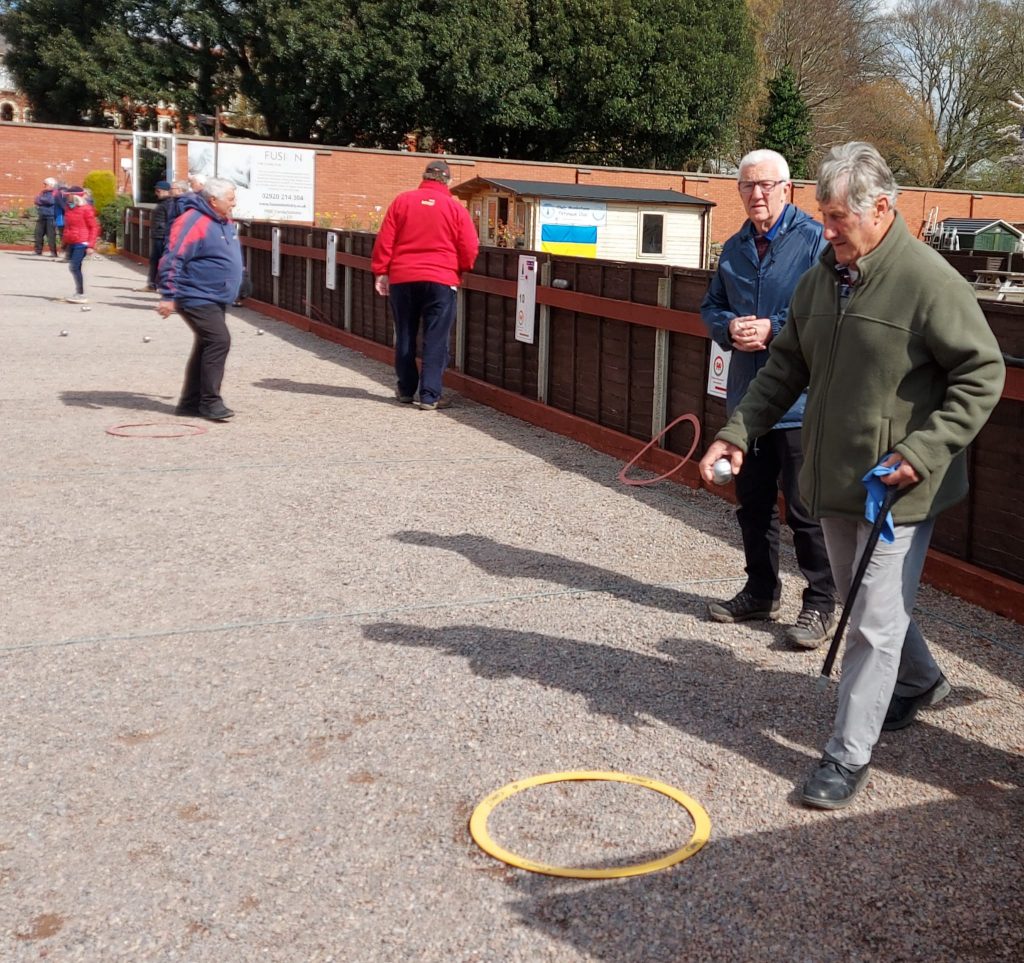 Our visitors had arrived in plenty of time and were keen to get on our pistes to practise. They were also very complimentary about our facilities, which was nice to hear. We needed to get off to a flyer to close the deficit from the first leg, but even we were surprised to win the first round of triples 4-0 (50-20). We were even more delighted to take the second triples round by the same margin, 4-0 (49-23). Perhaps RWB had found it hard to adjust to the size and surface of our pistes, which are markedly different to theirs.
Triples Scores: MPC 8 – 0 RWB
Overall Match Position: MPC 17 – 11 RWB
After lunch, Roger Griffin and Mike Jones stepped down for Bernard and Vickie who were now able to play in the doubles. Faced with needing to win every game of round 3 to level the scores, to their credit RWB came out fighting, winning four of the six games.
Doubles Scores Round 1: MPC 2 – 4 RWB
Overall Match Position: MPC 19 – 15 RWB
So RWB still had a chance, but it was a slim one. Five wins would give them a draw; six wins would seal a fantastic victory!
But we held our nerve in the final round of doubles and RWB could only manage one win, giving MPC a famous victory on the day.
Doubles Scores Round 2: MPC 5 – RWB 1
Final Match Scores: MPC 24 – RWB 16
Congratulations to all those members who participated in a unique cross-border winter friendly, a competition that both clubs would like to see as an annual event. It was certainly a very enjoyable experience, played by both clubs in an atmosphere of fair play and mutual respect, which is what petanque is all about.
My thanks go to everyone who gave up their time to play, particular the away leg. Thanks also to Joy, ably assisted by Pauline, for providing such a delicious lunch in our home tie.
Monkstone Red Nose Melee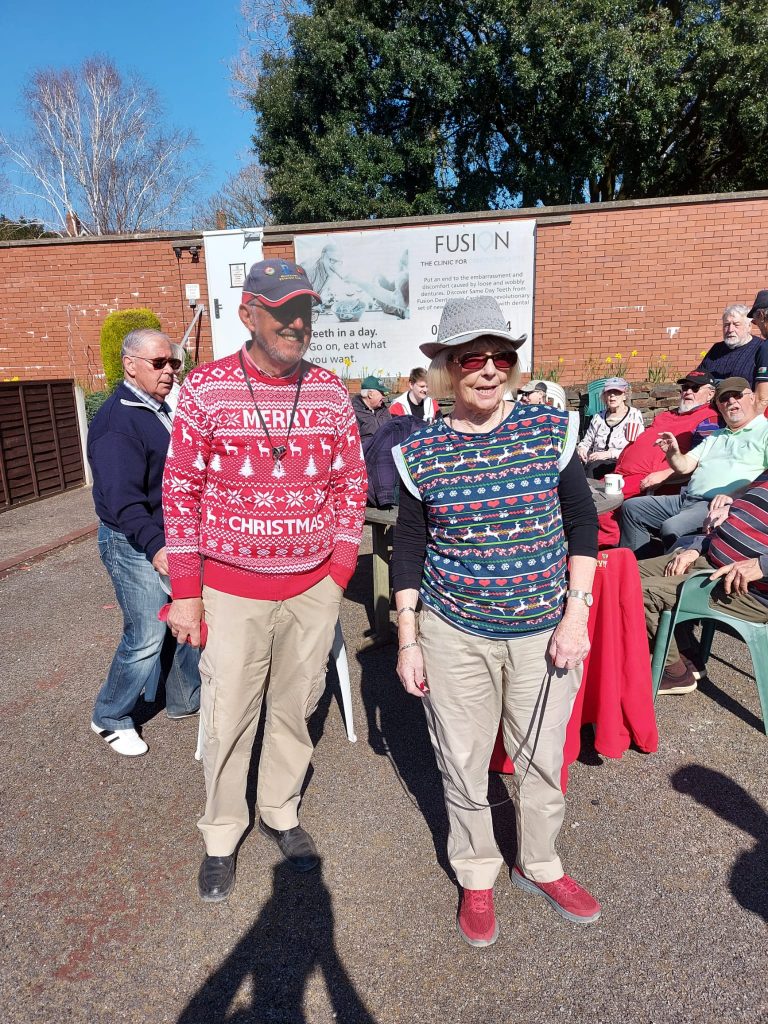 On Sunday 20 March 2022, Monkstone PC held its first ever Red Nose Melee in aid of Comic Relief. This year some of the money raised was going to support the people of Ukraine in their struggle to survive in these very difficult times. The idea was suggested by Roger Bennett and it turned out to be a great success. The entry fee of £5 was donated entirely to the charity and on a lovely sunny day the magnificent sum of £200 was raised. As for the melee itself, that wasn't the important part but just for the record there were 29 members present and 4 players finished on 3 wins – 4th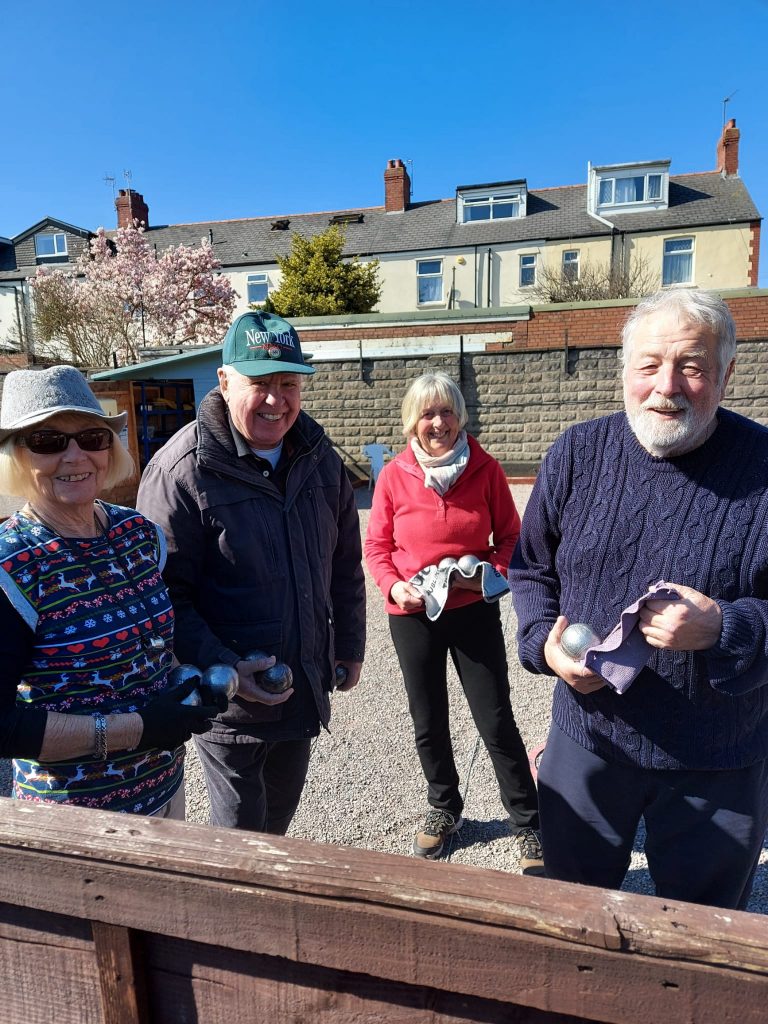 was Vickie Adshead (+12), 3rd John Xiberras (+16), 2nd Phil Roberts (+23) and, by a single point at (+24), was the winner, Bernard Adshead who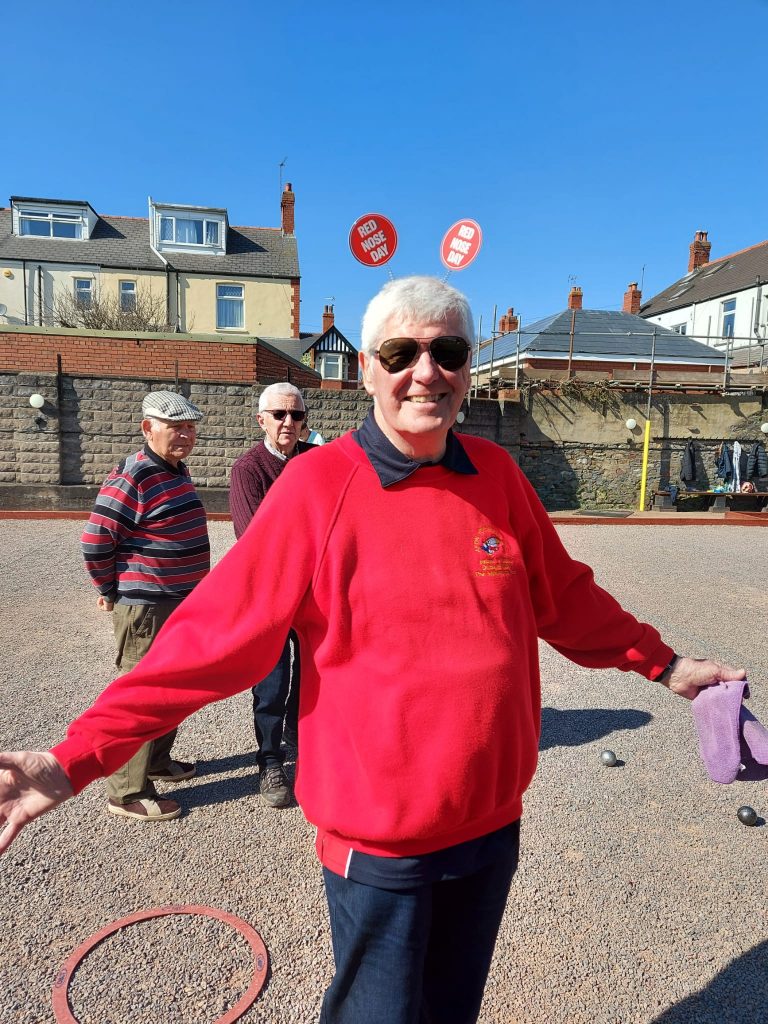 wishes to point out that it was in no way connected with him being the organiser and scorer!
WPA President's Cup
On Sunday 27 March 2022, Monkstone PC hosted the WPA President's Cup and, for the first time ever, the President's Novice Cup. This new competition was inaugurated by WPA President, Tony Smith, to try to encourage more people to take part in competitions. The main competition was won by a team from SWBRC Petanque Section – Julie Bailey, Len Field, Jean-Yves Robic & Geoff Jones. The new Novice cup was won by our own Amanda Jenkins, Roger Bennett & Rob Harris.
WPA National Precision Shooting & Singles
On Saturday & Sunday 23/24 April 2022, Monkstone PC hosted the WPA National Singles and the first Round of the National Precision Shooting Competition. A number of Monkstone members took part and the National Singles went to Kon Tomczyk of Caerleon RFC PC.
Monkstone Easter Egg Melee
Easter Sunday, 17 April 2022 saw the return, after a 2 year absence, of the popular Easter Egg Melee. 16 members took part and the handsome trophy was won by Amanda Jenkins, the only player on 3 wins, with Roger Griffin in 2nd place and Jayne Dunn in 3rd place. But this is the competition in which nobody loses as all entrants got a creme egg.
*******************************
On a more general note we have removed all the restrictions that were brought in during the pandemic and we are just about back to normal – whatever normal is! Please don't forget. however, that Coronavirus has not gone away and we should continue to respect each others' space and still practice basic hand hygiene.
I think that just about wraps up a run down of events at the since January. Hopefully we will not have any further long running outages and we can keep you all up to date on WHAT'S OCCURIN' at Monkstone Petanque Club.