From the pen of our cub reporter (and resident comedian) – Mike Jones
Are you sitting comfortably?   Then I will begin.
Once upon a time, in a land not that far, far away, there existed four clans. Usually they lived in happy harmony, sharing companionship, happiness and supportiveness. However, there were times when the clans would clash. Each time they would meet on neutral territory called 'The Gravel Pistes Of Penylan'.
In recent weeks, the clans had fought on several occasions, using nothing more than extra-large ball bearings and a solitary wooden sphere. Any injuries inflicted were psychological and not physical (unless Keith is pointing!!). It's a rule of combat.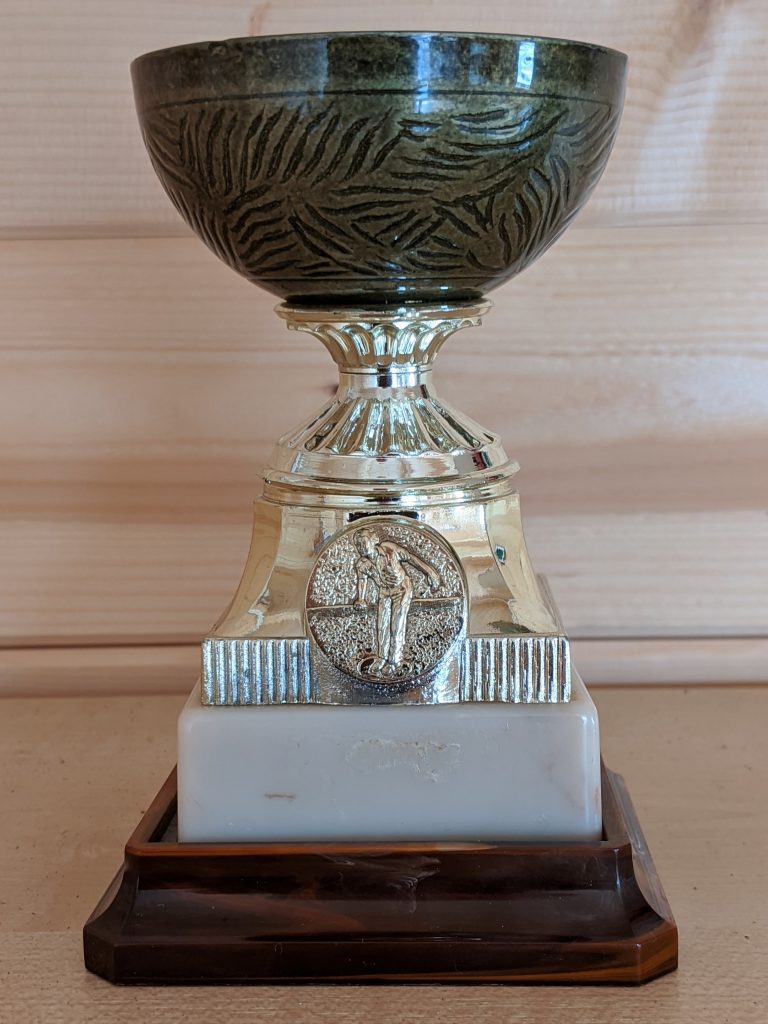 The clans would fight with dogged determination to win each battle. No quarter would be given. They battled for pride, dignity and a prize of undeniable beauty. (A photo of El Pres you ask?? No!!! A gleaming trophy!) Putting the heads of defeated leaders on spikes has been dispelled with due  to prevailing attitudes in present- day society!
The final battle would see Monarchs (a group brought together by their ability to know nothing about everything and everything about nothing!) take on the Minotaur clan (a group brought together by their mythological beliefs of superiority, charm and self-importance!). Definitely myths!!!
The confrontation was of extreme importance to Monarchs. They had suffered many a psychological blow in recent weeks and were playing for pride. Minotaurs had already inflicted sufficient defeats on others to claim the 'Champions of the Clans' title/trophy.
So it was that the two clans 'squared up' to each other on Wednesday  13th at 6.30pm. Monarchs chose to ignore the arrogant, smug, complacent swaggering of Minotaurs, focusing totally on nothing other than a conclusive victory to ease their anxiety.
The battle began. Roger Griffin strode towards Bernard like Randolph Scott in 'High Noon'!! Bernard stood impassively, like Terry Scott in 'Terry and June'.  Roger tossed the coin, but Bernard knew it had a head on both sides! Bernard called "Tails!"  Honestly!!!
Bernard had the expert aid of Amanda (aka ' The Blonde Assassin'). Roger was partnered with Keith (dressed more appropriately this week). Monarchs got off to a flier, going 5-0 up after two ends. Bernard & Amanda were not to be overawed and came back with really good pointing from Amanda to 7-7. Then came the pivotal moment!  Holding one, but with four Minotaurs boules nestled within 20cm of the jack, Roger & Keith had four boules in hand with Minotaurs out of boule. A chance for five! How to approach the challenge? Keith stood at the head, peering down at the dilemma. In fact, he was motionless for so long you could have spray painted him silver and put him in the city centre with an upturned cap in front of him!!!! Shoot the jack? Hard point to open a channel? Shoot out some opposition boules? The crowd waited, and waited, and waited, and waited. Decision made! "We will take the ONE!"   WHAT???  WHAT???  WHAT???   The two international players plummeted in the crowd's estimation. Twenty minutes to decide to take ONE!! Could that decision come back to bite them on the posterior? As luck would have it, they spared themselves blushes (and regular verbal abuse) by taking the game 13-8. Phew!!  Good pointing and shooting by both teams.
The other game had Tony & Sean battling Peredur (aka 'The Silent Assassin')  & Vickie 'I want that measured' Adshead (affectionately known as 'Cycloptic Vickie' due to the extra eye in the centre of the forehead used for measuring). A good start saw Minotaurs take a 2-0 lead.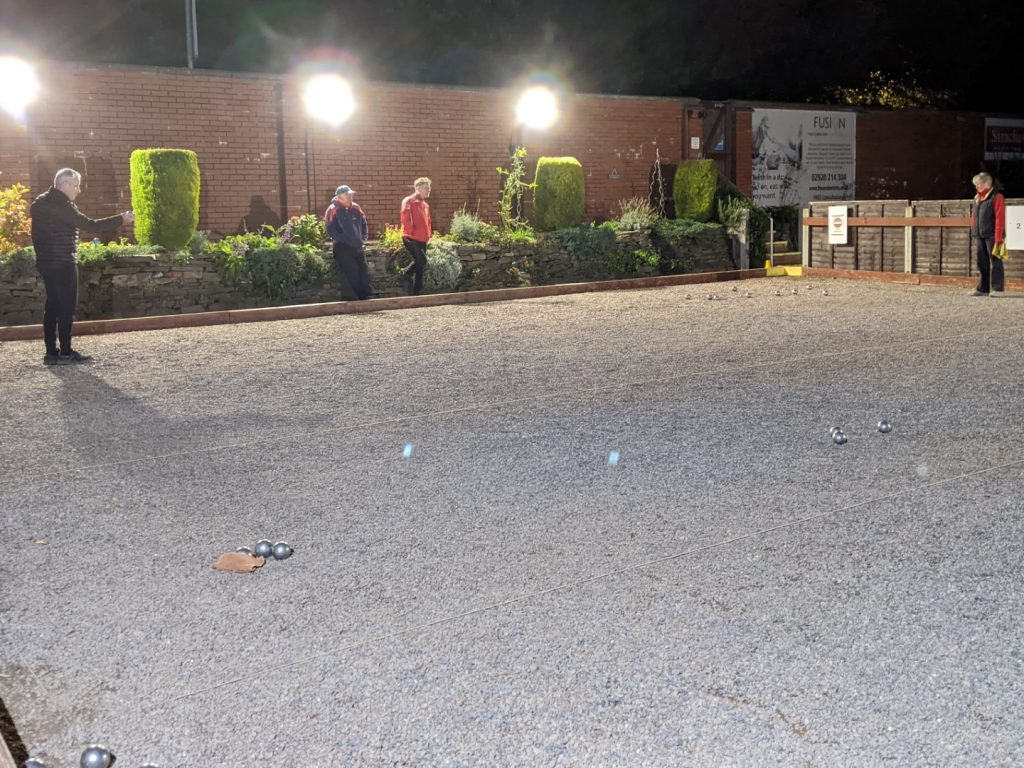 Some bad luck saw Vickie push the jack giving 4 to Monarchs. At 7-2 Monarchs looked comfortable but Minotaurs were not done with yet. A fight back ensured a tight finish. Very good pointing and shooting from both teams put the score at 10-10. Who wanted this the most? A classic shot by Sean took a 2. Only 1 needed. Again, an unlucky point saw the jack hit outside the string and with Tony holding one boule in hand, victory was taken by Monarchs 13-10. A good win contested with a high skill level by both teams.
With Monarchs leading 2-0 in games, Minotaurs were going to ' fight to the end' to try and get a draw and so the next games began in very cold conditions which saw your reporters joints seize up and eyesight deteriorate.
Roger & Keith played well but were evenly matched by Vickie & Peredur. It was a cagey affair moving from 3-0, to 3-5, to 7-7, to 9-9. A good run of pointing by Keith to within a few cms. of the jack and complimentary shooting by Roger gave them a 13-9 win. At 3-0 in games, Monarchs had achieved the victory they yearned for.
In the final game, Tony & Sean raced to a 5-2 lead. However, clever pointing and shooting gave Bernard & Amanda a rush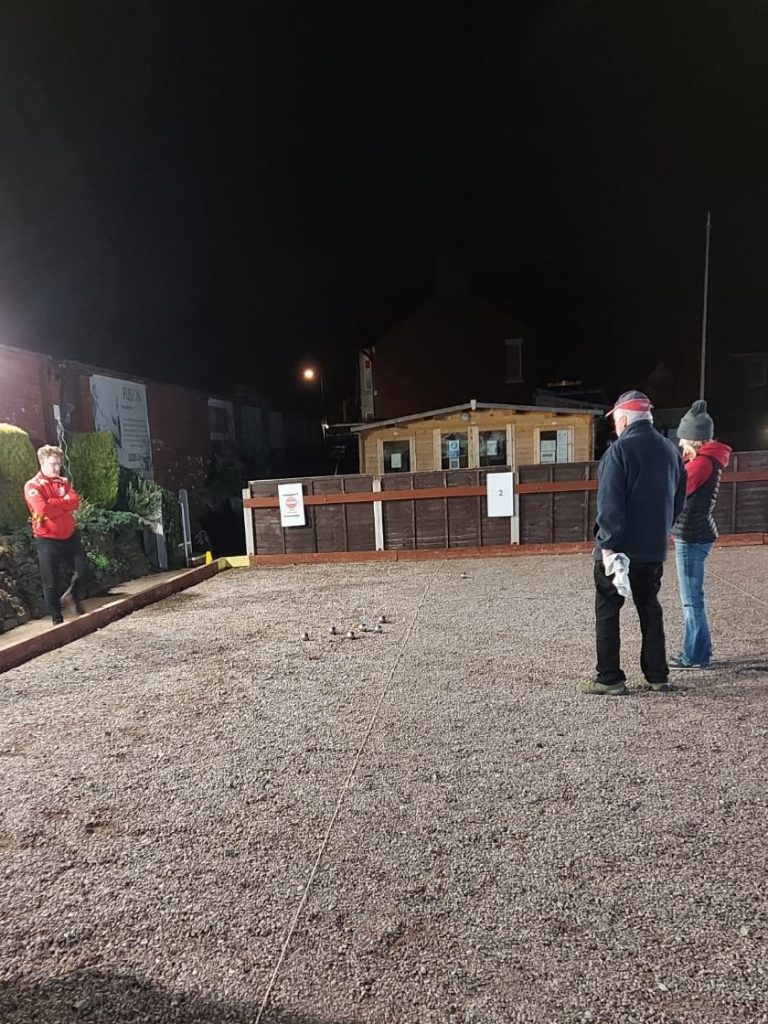 of points to 10-5!! They were never going to relinquish the lead and Minotaurs ran out comfortable winners at 13-7 to avoid the whitewash and salvage some pride.  Well done to both teams. Special mention should be given to Amanda. As a fairly recent convert to the game, she has made stellar progress with her pointing, and has been consistent and enthusiastic, playing against seasoned players. Well done! Keep it up!
That's it from me. Hope you all enjoyed the competition. I thought it was a great success.  "We  will take the ONE!"  Really???  Unbelievable!!
Until my next report:          Adios Amigos.
FINAL 2020 SUPER LEAGUE TABLE