Monkstone Petanque Club is encouraging members to participate in the NHS Test Trace Protect project by downloading and using the NHS Covid-19 App to help in the fight to eradicate Covid-19 from the country.
You will see a poster like the one below with a QR code (the large square full of random small black and white squares) on the door of our club house which you should scan each time you visit the Club. We also encourage you to use the process whenever you visit any location displaying a similar poster. When somebody using the App is diagnosed with Covid-19: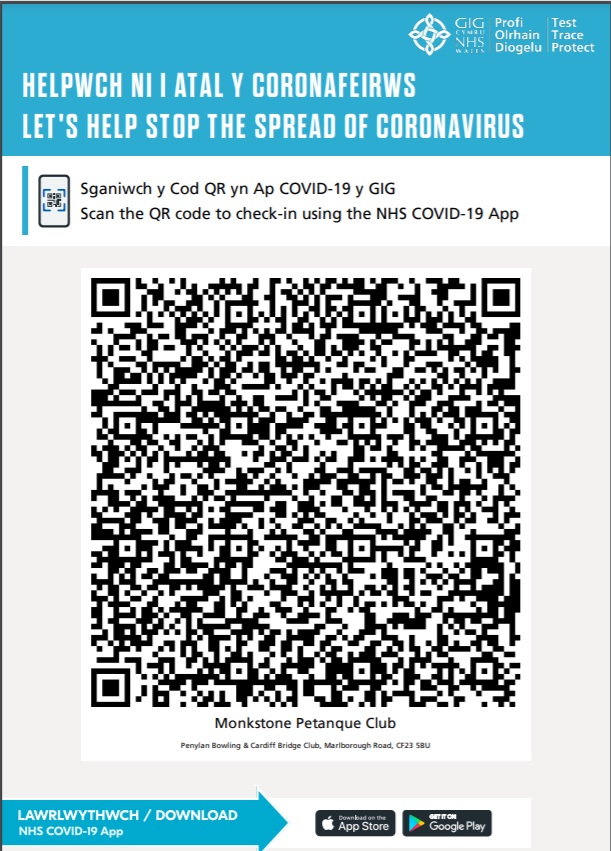 If it is you that tests positive, then everyone who might have been in contact with you, either at the Club or any other location where you have scanned a Venue Poster will be notified by the Test Trace team.

If it is someone else who tests positive and they have been in contact with you, the Test Trace team will notify you and all other people that they have been in contact with, and all the people that you have been in contact with. 
In order to participate in this vital NHS project you will need a fairly modern smartphone and to download the NHS Covid-19 App from Google Play or the App Store. From the options on the App, select "Venue Check-in" and this will open your phone's camera in the top half of the screen. Point the camera at the QR code (you don't have to press anything) and when the code is recognised you will get a message confirming that you have registered your visit.
We recognise that not all members will be able to participate but you are urged to join if you can. The more members that join the more effective the project will be.
PLEASE NOTE THAT THIS IS NOT A REPLACEMENT FOR THE REQUIREMENT TO BOOK A PISTE BEFORE YOU COME DOWN TO THE CLUB TO PLAY – IT IS A SUPPLEMENT TO THAT PROCESS.  
NHS Test Trace Protect
Get the NHS Covid-19 App