The 2019 WPA League Cup/Plate Finals were held on 28 September at Ystradowen PC. The Competing teams were Maesteg, Monkstone Minotaurs, Monkstone Monarchs & Penarth Panthers.
Before the competition commenced a period of silence was observed in memory of our good friend Peter Westall who was a member of Maesteg PC.
The semi- finals featured Maesteg v Minotaurs and Monarchs v Panthers. Moments after play started the rain started and for the whole of the semi-finals continued with a couple of short breaks until lunchtime.
The Minotaurs got off to a poor start when Bernard & Pred never really got into the game and lost 3 -13 in very quick order. In the other game Vickie and Peter K kept the Minotaurs in the tie with a 13 – 7 win although with points counting in the event of a draw it was unfortunate that, leading 12-2, they let their opponents chalk up another 5 points before closing out the game. In the reverse games Bernard & Pred came good and ran out easy winners by 13-2. This meant that Vickie & Peter needed only 6 points to draw the tie and 7 to win. Things were not looking good when they were trailing 1-10, when with Maesteg holding but out of boule, Vickie pushed the cosh out into open territory and they pointed in for 4. Only 2 more points were needed for the win but unfortunately Maesteg regrouped and got to 13 to win the tie by 1 point leaving the Minotaurs to rue the missed opportunities in the first two games.
In the other semi-final, represented by Rogers Griffin & Green, Sean & Mike J, the Monarchs ran out comfortable winners against the Panthers by 4-0 and 52-31 although they were pushed to to concede 9 points in 2 of the games.
After the lunch break, the weather cleared and only a couple of light showers spoiled the fine weather. In the Cup final, the Monarchs struggled against Maesteg. In their best game they took 11 points but eventually went down 0-4 and 37-52.
The Minotaurs went into the Plate final knowing that the pistes suited Penarth who generally play a pointing game. In the event the Minotaurs proved much too strong for their opponents and ran out winners by 3-1 and 47-28.
So Maesteg took the Cup and the Plate went to the Minotaurs.
All the teams agreed that new club Ystradowen had  developed a superb facility and their hospitality was second to none – bacon rolls will always win over a petanquer! Seriously. very well done to Ystradowen in hosting their first WPA competition in their first season.
CUP WINNERS – MAESTEG PC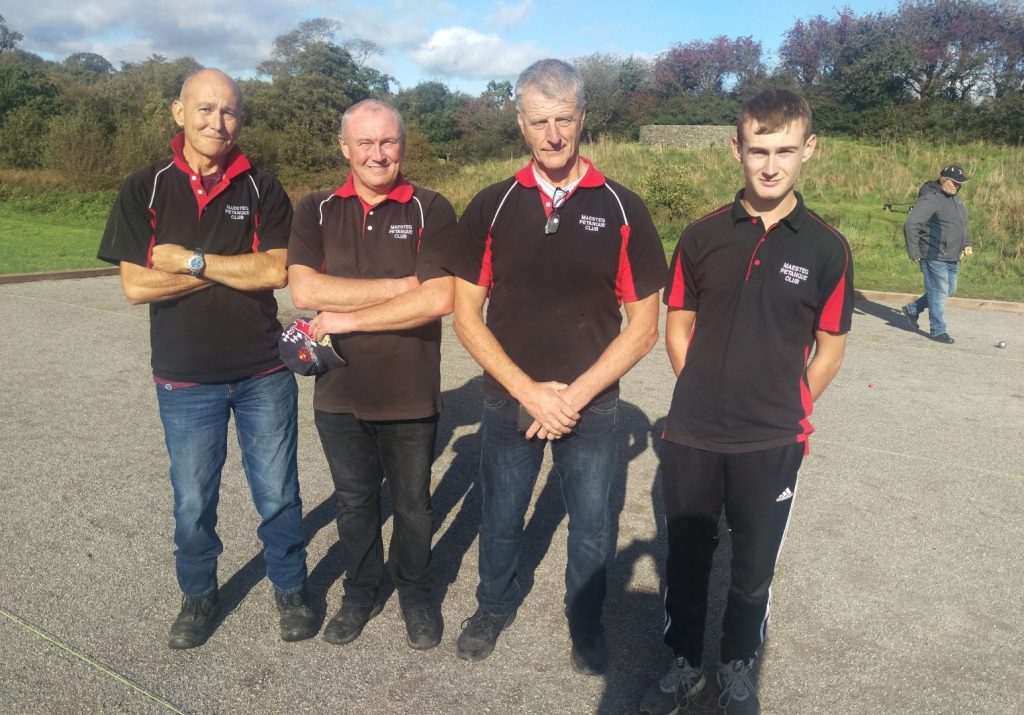 Kevin Edwards, Jeremy Clare, Len Field & Matthew Clare
CUP RUNNERS-UP – MONKSTONE MONARCHS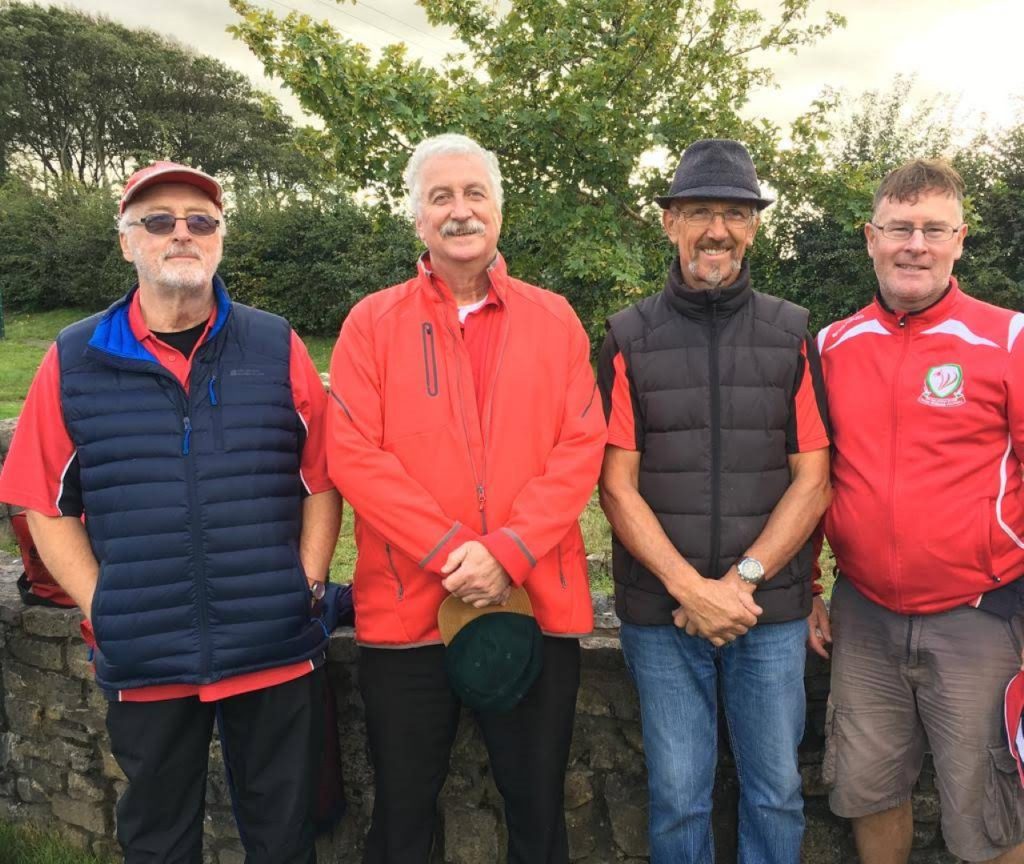 Roger Griffin, Mike Jones, Roger Green & Sean Smith
PLATE WINNERS – MONKSTONE MINOTAURS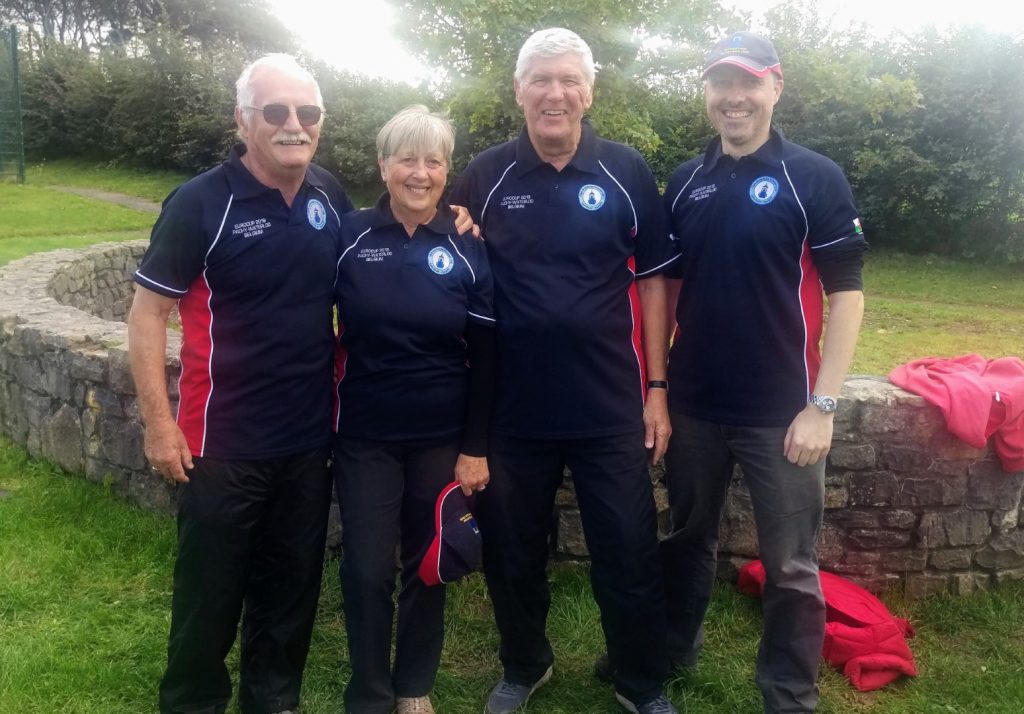 Peter Kensett, Vickie Adshead, Bernard Adshead & Peredur John