10 November saw the second competition of the autumn series, the Club Doubles. Just as the previous week's Triples, 24 members entered the competition. It was good to see brand new member, Amanda Jenkins taking part.
The first round saw wins for the following teams:
Vickie Adshead & Gill Clark; Peter Kensett & Andres Siso; Jayne Dunn & Gill Greenwell; Mike Wigg & Carol Maroney; Gareth Spencer & Peter David; Phil Roberts & Amanda Jenkins. Phil & Amanda were clear leaders with +7 followed by Peter and Andres on +5.
Round 2 got underway with Phil & Amanda pitted against Gareth & Peter whilst Peter & Andres took on Tony Smith & Ian Baildon Smith. Phil & Amanda ran out with a storming 13-1 win whilst Peter & Andres went down 10-13. This meant that the only teams on 2 wins were Jayne & Gill (+6), Vickie & Gill (+9) and Phil & Amanda (+19). It looked as though Phil & Amanda were nailed on for the title – could anyone stop them. President Mike's hopes of winning had been blown out of the water with no wins in the first 2 rounds.
So it was into the deciding 3rd round and as the results started to come in it revealed that all three teams on 2 wins had lost so no team could get more than 2 wins. Had another team on 1 win come through and won in Round 3 by a sufficient margin to topple Amanda & Phil.
Bernard Adshead, who had been unable to take part, had taken over the role of scorer and, after all the results were in, he checked and double checked the totals before announcing the final positions.
Back in the clubhouse Phil & Amanda were declared the 2019 Club Doubles winners. Many congratulations to them both but particularly to Amanda for whom it was her first competition – other players better watch out for the new kid on the block!
President Mike Jones presents the trophy to Amanda & Phil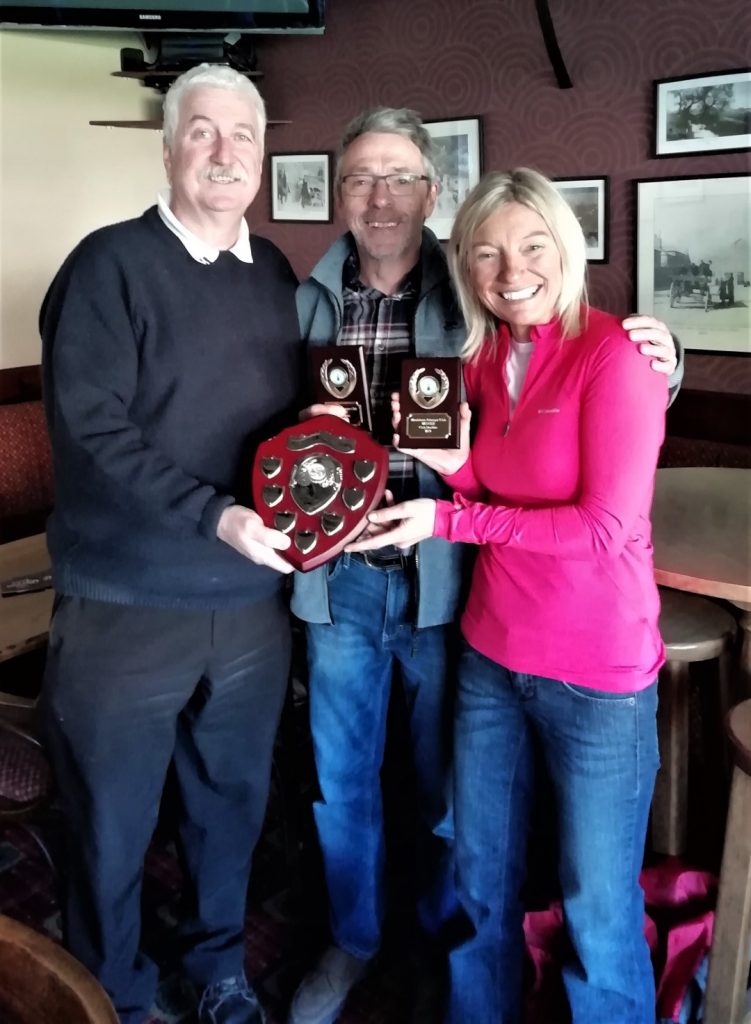 The full results were:
| | | |
| --- | --- | --- |
| Team | Wins | Diff |
| Phil Roberts & Amanda Jenkins | 2 | +14 |
| John Maroney & Roger "Ben" Bennett | 2 | +9 |
| Tony Smith & Ian Baildon-Smith | 2 | +6 |
| Jayne Dunn & Gill Greenwell | 2 | +5 |
| Vickie Adshead & Gill Clark | 2 | -3 |
| Peter Kensett & Andres Siso | 1 | +2 |
| Roger Griffin & Judith Smith | 1 | +2 |
| Mike Jones & Barbara Kensett | 1 | +1 |
| Michelle Spencer & Tony Newton | 1 | 0 |
| Mike Wigg & Carol Maroney | 1 | -8 |
| Gareth Spencer & Peter David | 0 | -10 |
| Roger Green & Steve Hawdon | 0 | -14 |