On 17 November under clear skies (well it wasn't raining!) the 2019 President's Cup got underway with 21 members taking to the pistes.
After Round 1 there were 10 people on 1 win with points differences for +2 to +10. One of those on +10 was El Pres Mike who as usual was desperate to win his own cup. Could he keep it up and triumph in the end?
Round 2 got underway and as the scores came in some of the first round winners had fallen at the second hurdle with finally only 5 players from the original 10 recording a win. In third place was Phil Roberts (+15), second Jayne Dunn (+17) with the maestro himself, El Pres, leading the way on +19 – could he hold it together for a final push to the winning post, would Phil Roberts break through for his second title of the season or would one of the other 2 players on 2 wins, Roger Green & Tony Smith, pip them both. So many questions which could only be answered on the piste.
As the Round 3 results started to come through things started to get interesting as Roger Green threw down the gauntlet by recording his third win for a score of +15. Next in was Jayne who had gone down 8-13 and was out of the running. The final 3 players on 2 wins were all involved in very close 13-11 (or 11-13) games. First in was Tony Smith who had gone down 11-13 and fell out of contention. The only game left out on the piste was Mike Jones & Peter Kensett v Phil Roberts & Barbara Kensett, the winner of which would take the title as a positive points difference would mean either of them finished above Roger Green. The game swung to and fro with the lead changing hands a number of times but in the end, quelle horreur, El Pres had gone down 11-13 to leave Phil on  3 wins (+17) and the worthy winner of the 2019 President's Cup. Well done Phil!
El Pres grudgingly handing over HIS trophy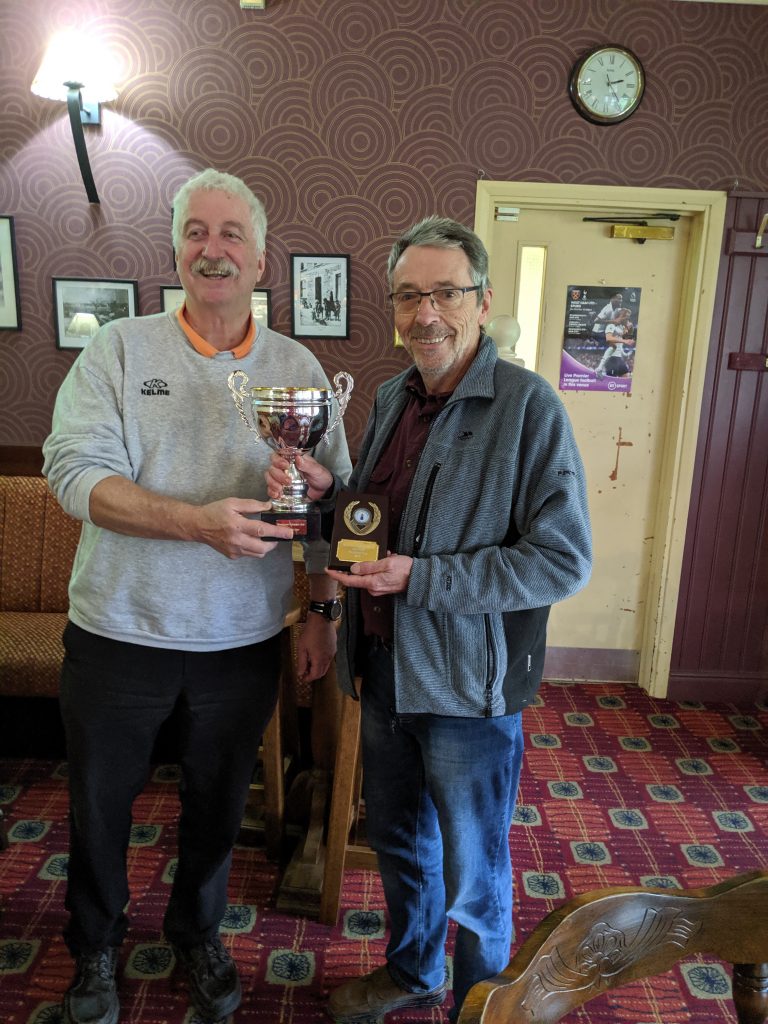 Phil looking like the cat the got the cream                                                       with his second trophy of the season